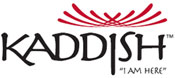 KADDISH EDUCATIONAL PROGRAM
Here I Am... And Look Who Is With Me - Using the words and music of Lawrence Siegel's composition, KADDISH, students will respond to the call of Holocaust survivor voices.

Twenty four lesson plans are available, along with supporting materials. The CD-ROMs include the score and libretto of the movement to which the lesson relates, along with audio files of the World Premiere performance.

Learn More...




FOR PERFORMERS
Litany/Kaddish Prayer - For those intersted in performing Litany and Kaddish Prayer we now provide the score, conductor's notes, and supporting material on CD-ROM.

Litany is the the turning point in the Kaddish narrative. It begins the final section of the work, Tikkun Olam, (Repair of the World) meant to find some way to move forward from the ashes. It consists only of spoken words, and only these words: the names, dates and places of birth, dates and places of death of 2,037 from among the millions who perished in the five extermination camps of the Nazis during the height of the Holocaust: 1942-44.

In performance of the whole work, Siegel's setting of the Mourner's Kaddish follows Litany. It is strongly encouraged that those wishing to perform Litany follow it with Kaddish Prayer; thus the two movements are offered together. In the Jewish tradition, Kaddish is said for those personally dear to us: our friends or relatives. We who perform Litany are "claiming" those whom we name as our own, and in some way doing our part to let them find peace.

Learn More...