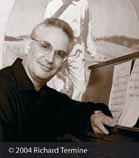 Lawrence Siegel, Tricinium Artistic Director & Music Composer
Lawrence Siegel is a music composer, theater artist, scholar and performer with a national reputation in several interrelated fields. As artistic director and founder of Tricinium, Limited (a 501(c)(3) organization) and director of
The Verbatim Project
, he has facilitated participatory, interdisciplinary residencies in the creation and performance of original works of music-theater for more than twelve years. These have included such diverse contexts as junior high and high school meditations on society; a celebration of The New Hampshire Character for the New Hampshire Charitable Foundation's Fortieth Anniversary; college courses; workshops for teachers; and community residencies, sponsored by ad hoc groups of local citizens.
1111
In 2000, Larry was a Millennium Artist in the Mid Atlantic Arts Foundation's Artists and Communities Program, working with the community of Harts, West Virginia. Place-based and site-specific art has also been the central preoccupation of the work he creates directly and in collaboration.
1111
The People's House,
(Lawrence Siegel, music composer) an original musical set in the New Hampshire State Legislature, premiered at the Capitol Center for the Arts, New Hampshire's most prominent and largest theater space, in November 2000.
1111
Monadnock Tales
, (Lawrence Siegel, music composer) a large-scale symphonic work with a narrated text premiered in May 2002 at Keene, New Hampshire's Colonial Theater in a performance by the Keene Chamber Orchestra under Eric Stumacher, with Lewis Feldstein, President of the New Hampshire Charitable Foundation, as narrator. The concert was repeated in March 2003. A chamber version with Thomas Putnam narrating and Siegel conducting premiered in November 2005.
1111
Larry received a doctorate in Music Theory and Composition from Brandeis University in 1988. During the 1980's, he was an active part of Boston's thriving New Music scene: a "Guest Sneaker" of the Composers in Red Sneakers, three times a Fellow at The MacDowell Colony, a Fellow in Composition at Tanglewood in 1987.